Event: Putin's "Project Mayhem". The Socio-Psychological Drivers of Putin's Politics of Ressentiment
It is our great pleasure to announce that the Centre for Democratic Integrity is hosting an event featuring the leading expert on the socio-psychological dynamics of fascism and terrorism Professor Roger Griffin.
The entire event consists of two parts:
Part 1 is a PowerPoint presentation of "Putin's 'Project Mayhem'. The Socio-Psychological Drivers of Russia's Politics of Ressentiment". The presentation was prepared by Roger Griffin and consists of the slides and Griffin's commentary to the slides. However, Griffin suggests that, in addition to listening to his commentary, the slides should also be consumed without his narrative at their own pace (by turning it off in PowerPoint -> Slideshow > Uncheck the box marked "Play narrations").
The PowerPoint presentation "Putin's 'Project Mayhem'" can be downloaded here.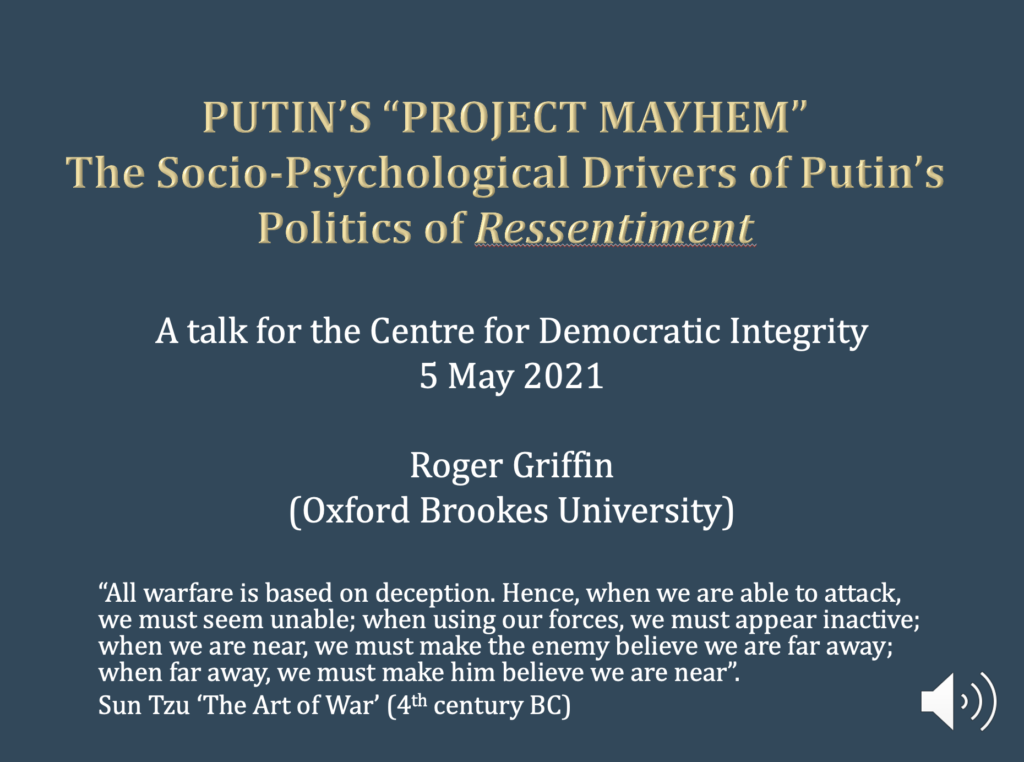 Part 2 is a live discussion of the presentation featuring Roger Griffin himself and moderated by the director of the Centre for Democratic Integrity Dr. Anton Shekhovtsov. The discussion will take place via Zoom on the 5th of May, 2021, at 5.00pm CEST. In order to receive a Zoom link and take part in the live discussion, you need to familiarise yourself with the PowerPoint presentation (see the link above) and register by sending your name and affiliation to the following email address by the 4th of May, 2021: centre@democratic-integrity.eu. We will be sending invitations to registered readers on the 4th of May.
About Roger Griffin: Emeritus Professor at Oxford Brookes University, best known for The Nature of Fascism (1991), Modernism and Fascism (2007); Terrorist's Creed: Fanatical Violence and the Human Need for Meaning (2012); Fascism: An Introduction to Comparative Fascist Studies (2018), and for co-founding the journal Fascism and COMFAS, the Association for the Comparative Fascism Studies. He has also assembled several major anthologies of primary and secondary sources relating to fascism. His main research interests are fascism, populism, terrorism, and more generally the way modern society generates minority movements of extremism and fanaticism, a tendency accelerated by the growing power of social media and vulnerability to conspiracy theories and other forms of paranoid and Manichaean politics and social movement.